Galaga Arrangement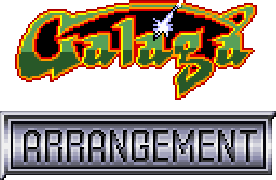 Type :

Arcade Game

Hardware :

Namco Circuit Board

Release :

1995
This is 1 of many games available in the 1995 arcade release, Namco Classic Collection Vol.1. The arrangement version, which was available next to the original Galaga version, kept the feel of Galaga while evolving the excitement to a new level.
How to Play (Controls)
Using the 2-way joystick, the player move the spacefighter horizontally while firing its cannon using the fire button.
The player can power-up into Dual Fighter mode by saving a captured spacefighter. Also, depending on the type of Galaga which captured the spacefighter, the player games varying ways of attack with the power-up.
Game System
The player controls the spacefighter to fire its cannon to defeat the enemy Galaga formations.
As the stage progresses, the enemies start showing various flight patterns and special formation attacks.
The game stages are separated into the following zones.
STAGE 2 : ASTEROID ZONE
STAGE 7 : NEBULA ZONE
STAGE 12 : GALAXY ZONE
STAGE 17 : SPACE-PLANT ZONE
STAGE 22 : UCHU-FLOWER ZONE
STAGE 27 : ENEMY-COMB ZONE
In the final Stage 30, the last boss, "King Galaspark" appears, and the Galaga forces begin their all-out attack. 2 players could play co-op, controlling each their spacefighter to attack. The game ends when the player loses all spacefighters, but they can be increased by reaching preset scores within the game.
Fun Facts
- Among the series, this game isn't well-known, but the game possesses a dynamic sense of movement, speed, and variation, which can't be experienced in any other game. Stage 1 is no different than the original Galaga game, but that is deceptive, as in Stage 2, the enemy attack patterns are completely different. In the latter stages, the player will encounter the original Galaxian boss as well.